Summer is around the corner, and there are plenty of new outdoor design trends and ideas coming this 2019! If you are among those who love to take their lives outside during the summertime, this article is for you! Join us on a journey into some of the most inspirational 2019 landscaping trends for your outdoor sanctuary!
1- Mixing Indoor and Outdoor
This recent trend has been going on since 2018 and it continues to be on the scene today. Over the past two years, we have seen the growing hype of bringing the indoors outside in too many forms. Nevertheless, and we believe the following three to be the hottest!
Outdoor Bars

© www.consorthome.com
A great way to host outdoor cocktail parties if you're fortunate enough to have ample space in your backyard. And with tons of design directions available, you will never fail to choose the outdoor bar that's right for your home. You can go from a simple L-shaped bar, stools, and wine cabinet all the way to a modern bar outfitted with innovative appliances.
Outdoor Kitchens

© stylecurator.com.au
Bring your cooking experience outdoors and let everyone participate in preparing a delicious meal! This way, your guests will feel more welcome and at home while also bonding with you. To build your dream feast area, you don't need to break your bank by going overboard. A small grill and working counter with an above shelter to protect from the weather will do the trick for you.
Patio and Backyard Decks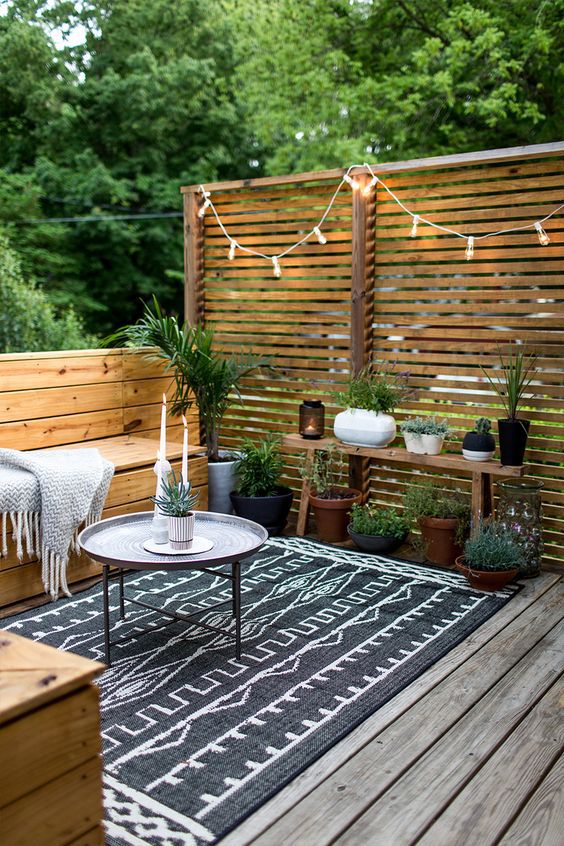 © thefreshexchange.com
When summer is finally here, you'll naturally opt to spend much of your time in your patio or backyard. So it's always a great idea to incorporate a deck that meets your outdoor living needs. But before you get too overwhelmed with the hundreds of design options, see what works best with your space. For a small patio, a comfy couch along with a few fresh throw pillows and some greenery around will look amazing.
2- Fire Pits

© archinect.com
Fire pits are one of our favorite outdoor design trends in 2019. A built-in fire pit will act as an interesting focal point in your patio or backyard. But most importantly, it will give you and your guests perfect roasted marshmallow ;)
A cool fact about fire pits is that you can use them as gathering points during cold winter nights providing an endless year-round outdoor leisure.
3- Pergolas

© dekoloji.com
These super stylish shades have always been and are still trendy this year. They represent a great solution to turn a sunny spot in your backyard into a shaded chatting and barbequing area. For the best look, choose your pergola roofing material to fit its context. The options range between fabric, Louvered Roofs, climbing plants, and many more.
4- Water Features

© www.containerwatergardens.net
There's nothing more soothing than the sound of running water within a relaxed outdoor setting. With this in mind, water features seem to be one of those trends enjoyed by everyone, and that is here to stay. If you're looking to accentuate your backyard or home garden and give more sanctuary vibe to it, there's no better way to do that than to incorporate a gorgeous fountain or a small pond that contrasts with your existing plants.
5- Lighting

© creativemaxx.com
We always stress that lighting has the ability to emphasize and light up your space at night. Therefore, if you want your backyard or patio design to have the dreamy, enchanting effect in mind, consider finalizing it with proper nighttime lighting.
Now that it's 2019, there are a variety of good options to help you achieve that effortlessly. For example, hanging string lights around will be enough to bring about your favorite vibe, especially since most string lights today come with a remote control that allows dimming or changing the color of the lights.
If you're looking for something more unique, there are other great options like LED floor lamps and patio umbrellas with built-in LED lights.
It's obvious that 2019 outdoor design trends are bringing us a step closer to having an optimal experience filled with tranquility and peacefulness. And with the general taste moving toward simplification, our outdoor settings will no longer be characterized by excessive decorations or additions, but with the simple stuff that exudes comfort and relaxation.
Are you well prepared for the summer? If you're thinking about remodeling your outdoor space for this season, check out our designers' concepts for a rooftop terrace and gain inspirations for your own space!